(anyone think of How to Lose a Guy in 10 Days when the song "You're So Vain" pops into your head? Oh wait - it's just me? Great.)
All of this bathroom talk has me thinking about vanity - I mean, vanities. I think this is going to be one of the items that will be the hardest to choose, the most expensive and probably cause the most grief.
Why?
a) I'm picky;
b) I abhorr making decisions, especially when they are somewhat permanent; and
c) I have no clue what I'm doing.
We have limited space for the vanity to fit - approximately 60 inches (maybe a few more but nothing is certain at this point). 60 inches is actually on the small side for a double vanity IMO so this is tough.
After looking at picture after picture, the one I keep coming back to is this:
This is from one of
Candace Olson's
transformations - isn't she so friggin talented? She's done a similar vanity in another renovation:
I'm not sure what it is I like about this. It is definitely more modern than what I always had loved from Restoration Hardware: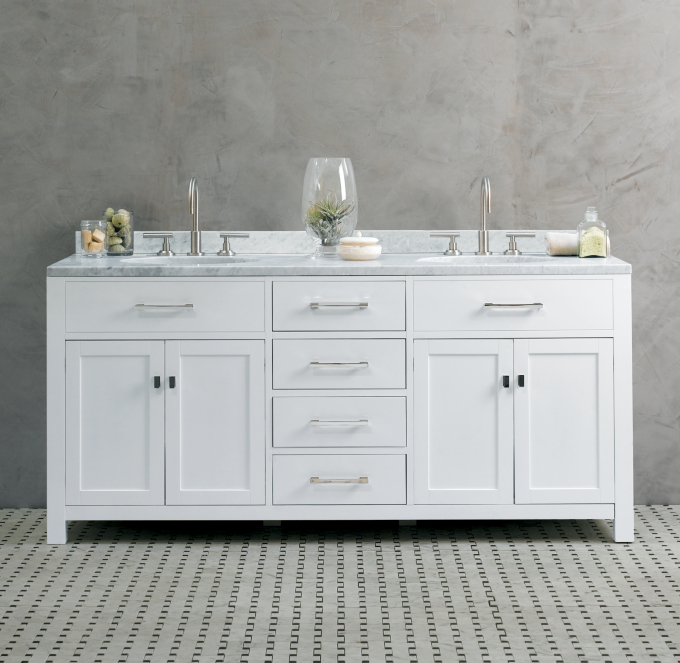 I'm not even sure where to get something like that (either as-is or custom made). Does anyone have any suggestions?
Here are some other photos I've gathered - let me know if something else jumps out at you!
And these are from Costco (thanks Wil :-)
As you can see I am also a bit back-and-forth on the colour of the vanity. White? Dark? More natural wood tones?
Do you think I should be looking for a different style of vanity? There are so many options out there and I have no clue what will work best and appeal to the types of people who will be interested in an updated Victorian house (not that we are planning on moving anytime soon - but this is so permanent!).
I am totally open to suggestion - so comment away on whether you know where to get it made, or if you think of something better :-)